As Dickson's first-launched kitchen cabinet, DFQ6800 carries an innovative concept that represents three decades of experience dedicated to furniture making. With our extensive experience and expertise, we strive to create stylish and excellent modern kitchens bolstered by modern technology and energy-saving ideas.
Dickson cabinets are aptly fit for any kitchenette as our designers work to satisfy your needs and preference based on your kitchen size. If it is large, you may consider a U-shaped or parallel-shaped cabinet for functional and space requirements. If you are looking for easy and efficient operation, the L-type cabinet offers you flexibility and convenience. If you are considering more additional features, the round-and-open cabinet could be your best choice.


View Product Technical Details Specifications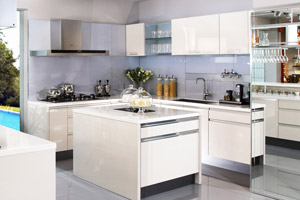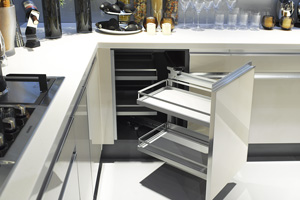 Functionality is and always will be an important design concept for Dickson cabinets. Our cabinets feature corner swing-out trays and pull-out shelves for storage. The cabinet island with embedded stove completes a cooking area while enhancing your storage capabilities prominently. The all-in-one design of kitchen cabinet with built-in appliances is not only a great space saver, but also provides the maximum utilization of corners with effortless maintenance.
Dickson cabinets have LED light which illuminates every nook of the kitchen. With special luminescent features, the lighting creates a soft-glowing ambience, while adding vibrancy to your scullery. As compared to traditional spotlights, LED lighting is an energy saver with a longer lifespan. Our cabinets offer full kitchen solution, including a Siemens refrigerator which has achieved Grade A++ Energy Efficiency Level, and an automatic dishwasher that can intelligently identify tableware quantities for the purpose of energy and water saving.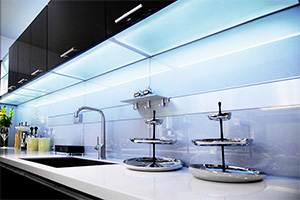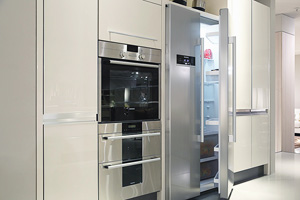 We cooperate with SIEMENS, the best-known home appliances brand to bring out the finest combination of kitchenware and cabinets, while offering a full range of automatic kitchenette solutions, including cooking and dishwashing so to reduce the burden of the owner in the cookery.
Dickson cabinets are also equipped with 5 basic kitchen apparatus: gas stove, electric stove, range hood, refrigerator and oven. You can also choose dishwasher and disinfection cabinet as an option.
Kitchen sink is one of the most important and dependable parts of your kitchen. We share that notion with you, and present you the professional stainless steel sinks by GORLDE. Its unique manufacturing process gives the depository a bright appearance, reflecting the simplicity and elegance of contemporary trends along with a remarkable resilience.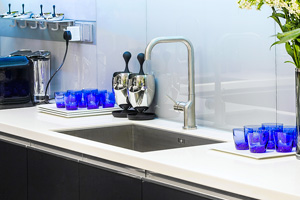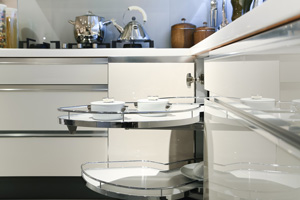 We believe that an impeccable cabinet design should be a perfect blend of fashion and quality; that is, exquisite architecture to reflect its striking appearance and meticulous functionality to resonate the quality of internal parts. Dickson cabinets adopt HETTICH hardware and KESSEBÖHMER kitchen accessories from Germany. The excellent conception and feasible functions greatly contribute in a satiated usage.
To maintain environmental health and safety, Dickson cabinets use imported E0 MDF board as the countertop material so as to achieve zero emission of formaldehyde. The DuPont™ Montelli® artificial surfaces are high standard materials and are U.S. NSF certified for food contact. In addition, we always consider recycling as an important point in product research, and this is the reason that we use a large number of recyclable aluminum materials for crafting cabinet components.